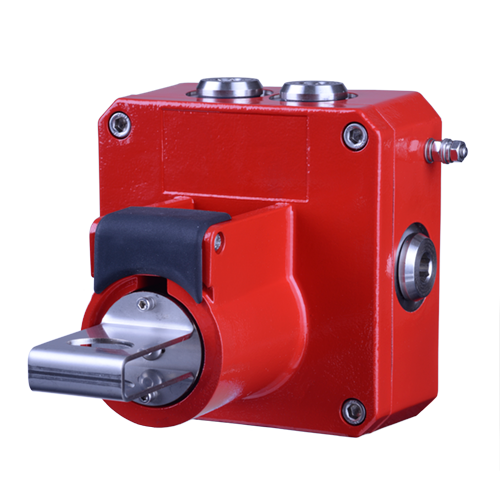 STExCP8-PB Push Button
The STExCP8-PB latching dual action push button manual call point, featuring 316L stainless steel enclosures, is designed for the harshest of environments. Approved for Zone 1 and 2 hazardous areas for fire and gas alarm systems plus emergency shutdown and process control applications.
Available with standard DIN rail terminals or the innovative E2S termination board providing dedicated connections for field installed EOL and/or series devices. SIL 2 certified to IEC 61508 (2010).
Specification
Version:
STExCP8-PB
Coding:
Ex db IIC T6 Gb Ta. -55°C to +70°C (Single switch)
Ex db IIC T5 Gb Ta. -55°C to +70°C (Dual switch)
Ex db IIC T6 Gb Ta. -55°C to +60°C (Dual switch)
Ingress protection:
EN/IEC 60529 - IP66
Housing material:
316L Stainless Steel
Colour:
RAL3000 Red (others available on request)
Cable entries:
2 x M20x1.5 top and
1 x M20x1.5 side.
Back box can be rotated to give
2 x bottom and 1 x side entries
Stopping plugs:
2 x 316 Stainless Steel plugs as standard
Brass and Nickel plated plugs optional
Terminals:
DIN rail 8 x 2.5mm² SAK2.5
or
Termination board featuring 6 x 2.5mm² terminals plus 4 x dedicated EOL & Series terminals
Earth:
External M5 earth connection
Weight:
4.6Kg/10.14Ibs
Voltage Range:
Max input Current:
Limitations for EOL / Series Resistors:
250Vac Max
5.0A max
not permitted
48Vdc Max
1.0A max
min. 2.2kOhm
24Vdc Max
3.0A max
min. 470 Ohm
EOL and Series Diode Values:
xxx:
Description
Max. current supply permitted
3V3
3.3V Zener Diode
230mA
4V7
4.7V Zener Diode
162mA
5V1
5.1V Zener Diode
149mA
5V6
5.6V Zener Diode
136mA
6V2
6.2V Zener Diode
122mA
6V8
6.8V Zener Diode
112mA
10V
10V Zener Diode
76mA
12V
12V Zener Diode
63mA
Part Codes
Version:
Part code:
Product type:
STExCP8PB
Dual action latching push button with manual reset
Switch Type: [s]
S
D
SPCO/SPDT
DPCO/DPDT
Cable Entry Type:[e]









Note:
A
B
C
D
E
F
G
H
I
J
3 x M20x1.5mm
2 x 1/2" NPT - adaptors
2 x 3/4" NPT - adaptors
2 x M25x1.5mm - adaptors
1 x 1/2" NPT - adaptor
1 x 3/4" NPT - adaptor
1 x M25x1.5mm - adaptor
3 x 1/2" NPT - adaptors
3 x 3/4" NPT - adaptors
3 x M25x1.5mm - adaptors
Unused entries supplied with M20 stopping plugs
Stopping plug
material: [m]
S
Stainless Steel [Default]
Terminals: [t]
D
P
DIN Rail 8 x SAK2.5
Termination board: 6 x 2.5mm² terminals plus 4 x EOL & Series terminals
Lift flap: [l]
N
Lift flap not available for -PB version
Duty label [d]:
1
2
3
4
5
6
No Duty label, no Equip. tag
Duty label St/St
Duty label St/St + Equip. tag
Duty label Metalised Polyester
Duty label M. Poly. + Equip. tag
Equip. tag only
Product version: [v]
A1
IECEx & ATEX & CUTR Ex EAC
Enclosure colour: [x]
R, B, N, Y, V, S, K
Red, Blue, Green, Yellow
Red/White, Yellow/Black, Black
E.O.L.Module:
[Exxx]
optional
ExxxR
ED1
ExxxZ
Resistor value in Ohms e.g. E470R = 470 Ohm
Diode IN4007 = ED1
Zener diode e.g. E5V1Z = 5.1V
Series Module:
[Sxxx]
optional
SxxxR
SD1
SxxxZ
Resistor value in Ohms e.g. S1K5R = 1.5K Ohm
Diode IN4007 = SD1
Zener diode e.g. S5V1Z = 5.1V
Example:
STExCP8PBSASDN1A1R
STExCP8-PB with single switch, 3xM20 entries, stainless steel plugs, DIN rail terminals, no lift flap, no duty label or tag, IECEx & ATEX & CTRU approved, red enclosure
Coding
Ex db IIC T6 Gb Ta. -55°C to +70°C (Single switch)
Ex db IIC T5 Gb Ta. -55°C to +70°C (Dual switch)
Ex db IIC T6 Gb Ta. -55°C to +60°C (Dual switch)